Comparison between JC H1 H2 Math Syllabus (Year 2020)
1) Pure Math Component
H1 Math
H2 Math

Functions and Graphs

Exponential and logarithmic functions and Graphing techniques
Equations and inequalities

Calculus

Differentiation
Integration

Functions and graphs
Sequences and series
Vectors
Introduction to Complex numbers
Calculus
2) Statistics Component
H1 Math
H2 Math

Probability
Binomial distribution
Normal distribution
Sampling
Hypothesis testing

Probability
Discrete random variables
Normal distribution
Sampling
Hypothesis testing
By comparing syllabus between H1 math and also H2 math, it can be seen that there are certain topics where it will both be studied by H1 Math and H2 Math students, For instance, the probability, normal distribution, sampling and hypothesis testing. On the other hand, there are similar topic in H1 Math and H2 math but the extend of the topic being covered between them are different. For example, the function and graph topic.
The information about the H1 & H2 mathematics provided above may not be up to date. Please refer to the official website for latest information for Singapore H1 math syllabus and Singapore H2 math syllabus.
Disclaimer
​​All the information provided on this website is provided on an "as is" and "as available" basis and you agree that you use such information entirely at your own risk.
The owner of the website gives no warranty and accepts no responsibility or liability for the accuracy or the completeness of the information and materials contained in this website. Under no circumstances will the owner of the website be held responsible or liable in any way for any claims, damages, losses, expenses, costs or liabilities whatsoever (including, without limitation, any direct or indirect damages for loss of profits, business interruption or loss of information) resulting or arising directly or indirectly from your use of or inability to use this website or any websites linked to it, or from your reliance on the information and material on this website, even if the University has been advised of the possibility of such damages in advance.
About Dr Loo
I am a PhD holder with 8 years of teaching experience at secondary school and university. My expertizes are mathematics, statistics, econometrics, finance and machine learning.
Currently I do provide consultation and private tuition in Singapore. For those who are looking for math tutor in Singapore or statistics tutor in Singapore. Please feel free to contact me at +65-85483705.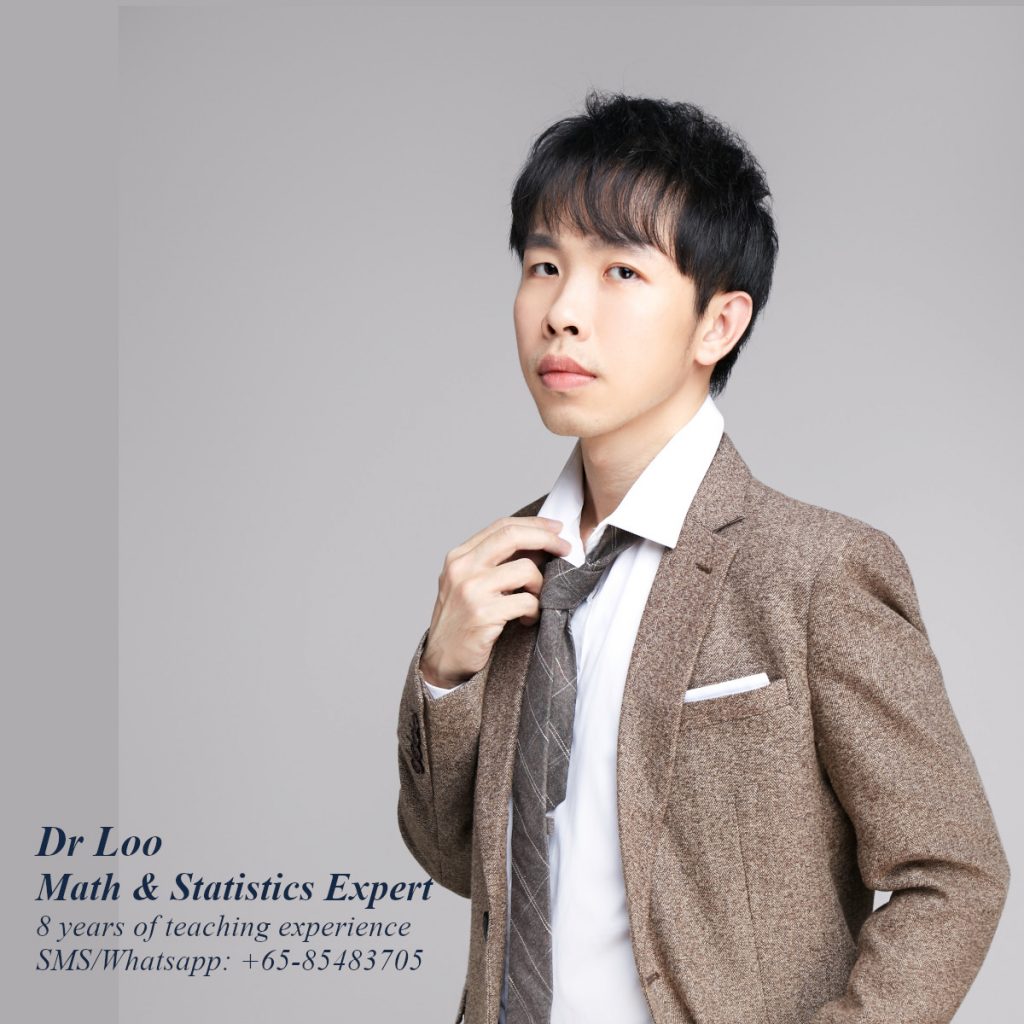 My mathematics tuition services in Singapore comes in different modes. You may refer to the links below for further information about the O-level math tuition and JC math tuition I provide in Singapore.
Others Math Tuition

About my statistics tuition in Singapore
Other than mathematics tuition, I do also provide statistics tuition as well. For instance, I do teach those who are taking A-level statistics, foundation statistics and even postgraduate statistics.